Hi everyone,
This is just going to be a post with a few miscellaneous notes....
First things first, the voting for the film noir contest. Here is the link:
Film Noir Contest Voting!
. Please read
everyone's
blogs, and then vote for your favorite. :) I already know two of my other blogging buddies that have joined in on the fun and their entries look wonderful, so I'm in great company! :) Also, at the last moment I decided to enter the video competition as well with my 100th birthday tribute to Lucy. The video got a good reception on Youtube (a thousand views in one week, which I have to admit is pretty cool), and so I decided
why not?
Especially since I'm not all that confident in my film noir post. You can vote for the videos (and don't forget to watch the other ones, too) here:
Video Contest Voting!
. (I ironically discovered that the ''What Did Joan Crawford and Barbara Stanwyck Do Last Friday Night'' video I shared a few weeks ago here is up against me... what a small world! :D) Voting is from today to September 10th, so you'll have plenty of time. And lastly, a quick thanks to David, the website's main host, for hosting this! :)
Here's some exciting news: I hit the twenty followers benchmark that I've been striving for! (Actually, it's twenty-three now. :D) Thanks a BILLION for following me, it really does mean a lot, and let's see if we can make it up to thirty now. ;)
Also, here's your poll results! I've been a little late with getting them in, but this is the way it turned out:
The winner is Lauren's autobiography, By Myself and Then Some with five votes (50 percent!). It looks interesting and you all must think it's good, so I'm going to trust your judgement! ;)
Tying for second place is Ava Gardner's biography, Love is Nothing, and Vivien's, with two votes (twenty percent) each.
And in last place, with one vote (ten percent) is Goodbye Natalie, Goodbye Splendour, or the story of how Natalie Wood drowned and the murky circumstances surrounding it.
So, I'm not very far at all in Jean Arthur's biography. It does look quite good, but maybe my mind is in other places and I'm not getting into it. -;) So, I think for the time being I'm going to go ahead and start reading Lauren's autobiography like you all have voted for me to do, and maybe come back to Jean another time. Thanks a bunch to all of you that voted and I'll be sure and review the book for you once I'm done!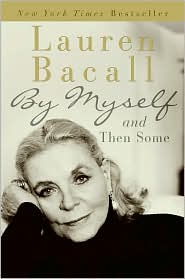 I guess one natural disaster wasn't enough for us this week. Hurricane Irene (Dunne? :P) is on the way, and there's a possibility we may lose power for a little while, so I may not get a chance to write if it's going to be as bad as everyone says it is. In fact, we just got a call from our electricity company warning us. Let's hope not - I hate hurricanes, and we never get
them
either! And, to top it off, it's coming smack dab on my mom's birthday on Saturday. What a present!
I've made a couple changes to the blog, or I should say,
additions.
Some of you have already noticed and begun using it, but for those of you who haven't, or aren't sure what it's for, or whatever, I'd added a "reactions" bar:
Sorry for the awful circling job there
Basically, this is quicker way to tell me what you thought of the post (Don't let this discourage you from commenting, though - I LOVE comments!), and it helps me in writing future posts. Right now your options are "funny", "interesting", and "cool." They're not all that original (pre-written for me by Blogger), and I'm not so happy with them so I'll probably change them to something better in the near future. Ideas?
And, I have added a bunch of new songs to my playlist (or AKA, the pink iPod on the sidebar). It still opens with the Gone With the Wind theme (followed up by "Frankly, my dear..."), but I've added some other old timey songs so any newbies to this blog won't think this is just a blog about "Gone With the Wind." (What with the title and all). So, here's what I've added for your hearing pleasure:
"I Only Have Eyes For You" sung by Frank Sinatra (hence the title of this post). A couple of days ago it was Joan Blondell day on TCM, and I had "Dames" playing on the TV. I wasn't actually paying attention (you know, when you leave the TV on for company... I do that always), but I did happen to hear this particular song play constantly in the movie, and it really grew to me. The only version I could get was Frank's, but it's Sinatra so it might as well be good!
"That's All" sung by Edie Adams on the final episode of The Lucy-Desi Comedy Hour... I love this song, it's very pretty and Edie sings it beautifully - in fact, this is my favorite version of the song.
"I Can't Give You Anything But Love" sung by Marlene Dietrich (yep, Marlene). I wanted to get the Doris Day version of this, but that wasn't available. Everyone remember it from "Bringing up Baby"? :)
"Stardust" sung by Nat King Cole. I hear this was Bette Davis's personal favorite song, and I really like it. So, here's to Bette.
"As Time Goes By" by Doolie Wilson, or, the one and only Sam! I don't have to tell you anymore, you know where it's from. INGRID: Play it, Sam. Play.... "As Time Goes By." SAM: Well, I'm a little rusty on it, Miss Ilsa INGRID: -- I'll hum it for you. Di-de-dee-du-dum....
The theme from "An Affair to Remember." This movie is one of my favorites (it makes me cry every time), and the theme is so beautiful, too.
A really awkward version of "Que Sera Sera" by Doris, but once again, it was the only one I could get. Oh, well - que sera sera!
"Isn't it Romantic?" sung by Jeanette MacDonald. I LOVE this song, it's one of my favorites, but no offense to Jeanette, only I really wanted to get the Ella Fitzgerald version of this. I AH-DORE that version. This is nice, too... but Ella's just blows me away. Oh well, we'll have to settle for this.
"Cheek to Cheek" ... I THINK sung by Ginger Rogers. Please correct me if I'm wrong! Because I could like, totally, be off like that. ;) Anyway, this is a nice version and I like it.
... And lastly, a little Vera Lynn for you: "We'll Meet Again." (Some sunny day!)
I may add some more into the future as they come into my mind. ;)
Okay, so you're used to leaving you with some random kind of photo or something, but today I'm going to leave you with a clip from one of my favorite movies EVER, "Bringing Up Baby"... I'm sure most of you have already seen it. But, whatever. It's adorable, and it makes me smile. :)
To my annoyance, I could not embed the video here but you can click that link just below the photo :)
That's all for now, and please don't forget to check out the film noir contest. Now that the polls are up, I've taken a look at the other three contestants and it's simply FABULOUS, dahhhlings. :)


Ciao! ;)