Bonjour!
It looks like we survived the hurricane at my place. Now, it's sunny and the sky is blue and there's a beautiful wind (whatever remains from Irene's destructive path) blowing through the trees. I'm glad, because today is the
second
to last day of my summer vacation (insert crying), and I want it to be beautiful, of course.
To tell you the truth, Irene wasn't that bad. The worst of it came when it was dark outside so all of it was a LOT of wind (you could hear all of it), and rain, and all of that. And... best of all.... WE DIDN'T LOSE POWER!!! I guess we totally lucked out because a lot of people lost power, and we also have one of those really annoying companies that supply power that are terrible when it comes to withstanding these sort of things. So yes, we totally got lucky. Over all, it wasn't a terrifying experience... but I did hear that fourteen people died from the storm, or due to things related to the storm, so that's pretty awful. I, for one, am done with natural disasters for now!
So, I watched two movies this week - I
rewatched
"Forever Darling", from my new Lucy box set, and then I watched, for the first time, "To Have and Have Not." I have "Now, Voyager" - I'm on a kind of Bette Davis high - waiting for me in a red envelope from Netflix, but between all the craziness of the last days I haven't gotten a chance to get to it (I'll probably watch it tonight and save it for next week's review).
As you can tell by the title of this post, I am going to be reviewing "Forever, Darling." Now, here's the thing - as much as I love, love, love Lucy (and you all know how much I do, it's crazy) but "Forever, Darling" is really not that good of a movie. (In fact, Lucy said so herself: "I've been in a lot of stinkers, but this one was the stinkiest."). So. Why am I reviewing this one and not "To Have and Have Not", which in reality WAY better?
Because, and don't think ill of me, I'm sort of tired of doing reviews on
good
films!!! The last few have all been really excellent films and "To Have and Have Not" would be another one of those, and I was getting bored. So I decided to allow myself one bad film review for this week. And besides, my new header, as you can all tell, is now featuring the most stereotypical photo of Ingrid EVER (hehe), because it's her birthday tomorrow!!!! So,
of course
she's going to be in my header.
But anyway, that's why I'm doing this movie and I hope all of you know what a great film "To Have and To Have Not" is.
Before I get on with the review, we're going to play a little game. Here's how it's going to work: I'm going to post a picture of a particular Old Hollywood actress as a child, and you all can leave me a comment with your guess. I won't tell you until maybe a day or two, and then I'll mention the comment-er who figured it out first. No prizes or anything, but it's fun to play. See if you can figure it out!!
Don't be bashful... take a guess! ;)
***
I know... awkward poster... check out Desi's expression.... ho hum...
Lucy plays Susan Vega, a Californian housewife who has been married to scientist husband Lorenzo (Desi) for five years. The honeymoon is since over and Susan finds herself spending way too much time with her snobby cousin Millie Updike (played by that chick from Gilligan's Island.. uh... what's her name?) and nearly turning into a clone of her. The first sign? She is swooning over James Mason at the movies. In a bizarre turn of events, Susan finds herself visited by her "guardian angel" who, ironically, looks exactly like James Mason. She has mixed feelings of resentment and then lust for the "angel", but in the end she looks to him for help to patch up her marriage. The angel's fix? To go on a camping trip with Lorenzo, one, that, of course, turns into a disaster...
The cast has got:
Lucille Ball as Susan Vega
Desi Arnaz as Lorenzo Vega
James Mason as The Guardian Angel Who Looks Exactly Like James Mason
Natalie Schafer as Millie Updike
And, in an appearance as the maid, Amy, Nancy Kulp
It is directed by Alexander Hall, who had been a beau of Lucy's - in fact, he was the guy she had been dating when she met Desi, and, in succession, dumped him for Desi (no hard feelings, I guess, especially if they got him to direct this bomber).
This was made in 1956. "I Love Lucy" was still on air and at the top of the ratings and Lucy and Desi were humongous stars. Their earlier film, "The Long, Long Trailer" (1953, at the peak of their popularity) had been a HUGE success and the expectations for this film were quite high. But, despite all of this, this movie failed to attract at the box office.
I can understand. This movie is all over the place. It is a comedy with an awkward sci-fi feeling hanging over it like a dark cloud on a sunny day.
Susan Vega is not exactly a version of Lucy Ricardo, but a lot of her stems from our favorite zany redhead. Especially her pratfalls when they go camping - like getting stuck in a sleeping bag, poking a hole in the boat, etc. etc.
Lorenzo Vega is just one of those awkward, somewhat unbelievable characters. I think, of course, that Lucy and Desi do a good job with whatever material they are given, but a lot of it feels somewhat episodic and I think the whole guardian angel bit was just way out there.
It is said that Lucy and Desi originally wanted Cary Grant for the James Mason role, but he was out of their price range (the same thing had occurred on the set of "A Star is Born") so they had to settle for James Mason. James Mason doesn't get to do much, either. He walks through walls with awful special effects, and disappears for most of the camping trip but then shows up at the end to save the day.
Is it just me... or is that a little creepy????
The Susan-Lorenzo marriage thing is kind of depressing. By this time Lucy and Desi's marriage was not completely broken up but it was on shaky ground. At least they loved each other in "The Long, Long Trailer" -- this couple is pretty distant and a lot of the time they're fighting in parralels to the real Lucy and Desi. I mean, one would think they're closer to their guardian angels then one another, really (Desi doesn't have one, but if he did she would look like Ava Gardner, who he dreams about. To this, I cracked, "She'd be a GARDNER angel!" Get it?? Get it?? Me and my bad puns... ).
What are the upsides to this film?
Well, if anything, I must say it's entertaining. I mean, you're not going to get bored with it or anything, that's for certain. Also, it has LUCILLE BALL in it so that's always a bonus, for anything, ever.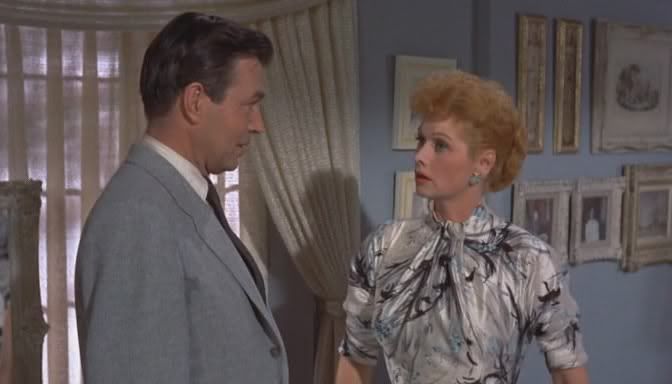 And hey! Lucy wears a lot of the stuff she wore on "I Love Lucy", so now know what they looked like in color, of course... I did a lot of, "That dress is yellow? But I thought it was white!", and all of that.
Also, I kind of liked the soundtrack for this film --
I think if you're a Lucy / Desi fan, you'll want to see it. And you can watch it right here on Youtube:
This is the whole movie, all in one, which is quite nice.
Over all, I'm going to give this a
three stars out of five.
I'm probably being quite generous, though.
***
That's all for this Sunday's review. I'm off to enjoy Carole Lombard day on TCM. And don't forget to leave me your guesses! ;-)