Boy, have I had a busy weekend!!!
And because of that, I have been (sniffles) unable to watch a movie this weekend. :( I know, I get really sad too when I don't get to watch a classic movie over the weekend, because, you know, when I'm watching one of those I'm at some of my very happiest.
HOWEVER, I still have a movie review for today. Though it's going to be extremely short, and so let me explain a new set of rules I'm going to apply to the Sunday Movie Review.
We can refer to it as "SMR" - is that a clever acronym or what? (Yeah, I'm being sarcastic).
Now here's the more important part: so something I realize is that my reviews are short to begin with, but if I have not just seen the film the past couple of days, I stumble over my words and use too many photos and overall the review tends to be extremely short and choppy for me. I don't like producing work that falls short of what I want to do, so...
So, now when I go ahead and admit to you "Dahhlings, I didn't watch a movie this weekend", I'll label that SMR a short review. Basically, I take a review from my Netflix reviewing history and paste it into here. Since Netflix doesn't give you all the space in the world to you know, write reviews, these reviews will just be, well, short.
I will try and not do this often, only on the weekends when I do not get the opportunity to watch a movie and have to pull something from my movie past.
As for this first SMR short review, I'll start with one of the longer short reviews I could dig up. The movie is "High Society".
Also, you may notice I have tweaked my format for these movie reviews slightly - this will apply to all of my SMRs. I have decided to make it a little more organized and neater, which hopefully make the over all review seem more.. polished?? Any feedback on this is greatly appreciated.
***
The poster: I like it. Simple, perhaps, but fun and it's cute :)
The plot:
In this musical reworking of The Philadelphia Story, Newport blueblood Bing Crosby tries to win back his ex-wife, "ice goddess" Grace Kelly, while Frank Sinatra and Celeste Holm (reporters for Snoop Magazine) gum up the works. Cole Porter wrote the score (which includes the Oscar-winning song "True Love"), and Louis Armstrong and his band are on hand to syncopate all the shenanigans.
[from
Netflix
]
The starring players:
Grace Kelly as Tracy "Samantha" Lord
Bing Crosby as C.K Dexter-Haven
Frank Sinatra as Mike Connor
Celeste Holm as Liz Imbrie
Louis Armstrong as himself
The verdict:
3/5
***
This film had a lot of things going for it for me. 1) the lovely soon-to-be-Princess-of-Monaco, Grace Kelly, 2) the supporting talents of Bing Crosby, Frank Sinatra, and Celeste Holm, 3) the sophisticated setting of Newport high society, and 4) brilliantly bright Technicolor filming. Unfortunately, I was very disappointed. The original "Philadelphia Story" is one of my favorite films and I wanted to see what they would do with it. They use some of the same dialogue, except they throw in awful bits and pieces - "I want you to marry me not because I'm worthy, but because I'm unworthy," (?) Grace insists - and string in some songs. If you are a music enthusiast, you'll probably be excited to hear Crosby and Sinatra, the two greatest crooners of all time, sing together but trust me, it's not as fun as it seems. Grace is sophisticated and wears some gorgeous outfits, but as lovely as she is she is not enough to save this film. At an hour forty minutes, it dragged on for what seemed like an eternity. It was a sticky and as slow as molasses when it came to the point where we began fast forwarding it. If I despise it so much, you wonder, why do I bother to give it 3 stars?? Grace, Bing, Frank, and Celeste deserve some sort of a cheer for forcing themselves through this. It gets some brownie points for sophistication. Perhaps if I had never seen Philadelphia Story (gasp!), I could bring myself to like it more. But I was raised on that movie, and this is hodgepodge in front of it, I'm afraid. Watch the original instead and you'll have a lot better time.
The bottom line:
Though I liked particular elements of this film (the star studded cast, the beautiful clothes worn by Grace, and the "high society" setting), I just could not like the whole thing very much. Everyone makes a good effort, and the intentions are good, but as a great lover of "The Philadelphia Story", it was not very easy for me to love this movie. If you have a hardcore musical lover and perhaps not a big fan of the original, you may like it, but each to their own, I suppose! Three out of five stars.
Some photos: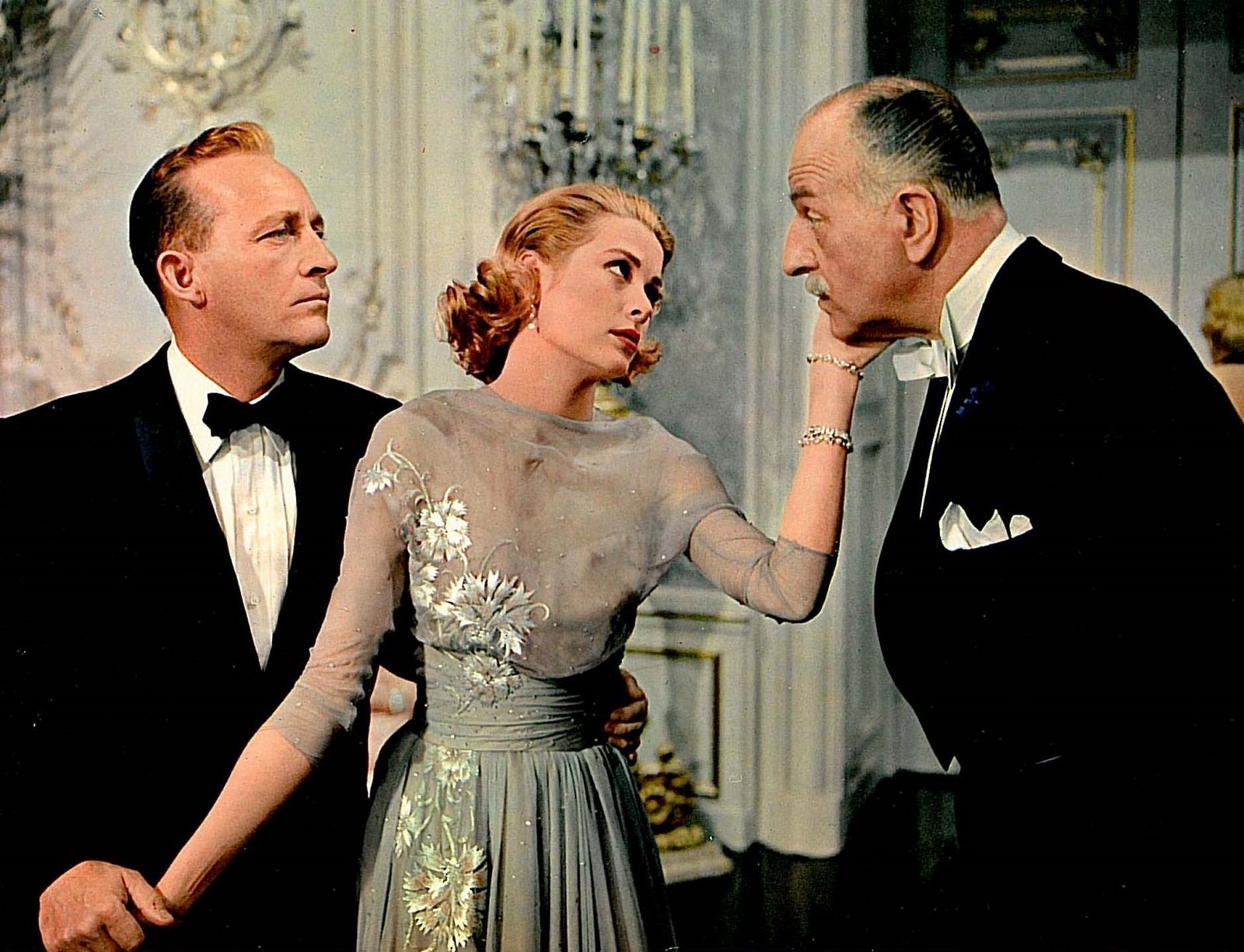 Some trivia:
The first choice for Tracy Lord was Elizabeth Taylor, but she was unavailable so it was given to Grace. It would be her last feature film before leaving Hollywood to become Princess of Monaco.
Tracy Lord's engagement ring in the film was in reality the ring given to Grace by her real life fiance, Prince Rainier of Monaco.
Features the song "Who Wants to be a Millionaire?", which is where the TV quiz show of the same name would get it's title.
A movie tidbit:
***
There it is, my first SMR in it's newly revamped edition. I like the structure myself - hopefully it'll be better for you readers and I must admit, it was a lot easier for me to put together, as well. Oh, and my first "short review", too. Hopefully they won't be that frequent.. .but it wasn't that bad, was it? :)
By the way, I found this on Tumblr the other day and decided to share it... if I could choose which place and year I could live in, this would probably be one of my very top choices:
New York in the late 1930's. ;) Isn't it glorious?