Thank you so much to everyone who has supported and participated in my
classic film survey
! I'm having lots of fun reading all your answers and am discovering tons of new blogs. I'm looking forward to reading more responses (
hopefully
)! But really though, what a lovely turnout, guys, thanks so much!
♥
Before I get onto the movie review, I thought I'd give you a quick update on my
250 Films in 2012
project. In January, I watched thirteen movies, and though I think I experimented pretty well with the actors and genres I'm trying to watch more of this year, I do wish I'd gotten to see more movies. I did my math, and to reach the goal of 250 films by the end of this year, I'm going to need to watch 20 films per month, and then some. It's hard with schoolwork, though, so we'll see how it goes. I'm updating the list of films I've been seeing frequently, so you can head over to that page if you'd like to take a look. My film watching goals are there, too. All suggestions are welcome!
***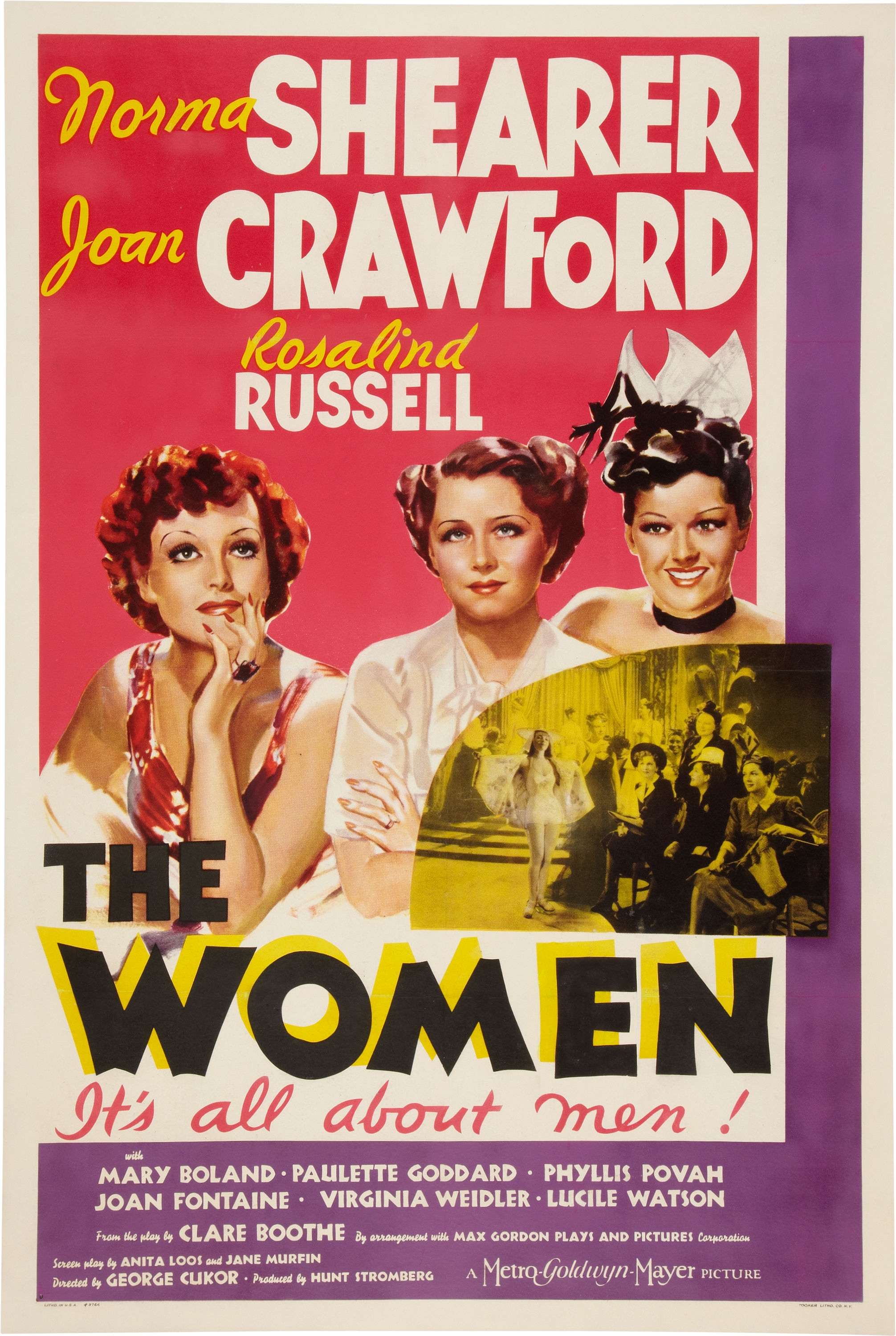 The poster: I like the sketches of Joan, Norma, and Roz - and also the tagline "It's all about men!"
The plot:
George Cukor directs an all-female cast in this catty tale about battling and bonding between friends and enemies that was edgy for its time -- and is considered the ultimate women's movie of the 1930s. Norma Shearer, Joan Crawford, Rosalind Russell and other Hollywood leading ladies are among the array of husband-snatchers, snitches and lovelorn ladies who argue and gossip about each other at astonishing breakneck speed.
[from
Netflix
]
The starring players:
Norma Shearer as Mary Haines
Rosalind Russell as Sylvia Fowler
Joan Crawford as Crystal Allen
Paulette Goddard as Miriam Aarons
Joan Fontaine as Peggy Day
The verdict:
Well, the first thing you could possibly notice about this movie is it's tremendous, totally female cast! In addition to the five leading ladies mentioned above - though Paulette and Joan F. weren't really above the title stars yet, Norma and Joan were the Queens of MGM and Roz also got before the title billing, albeit in small letters - you'd also spot: Marjorie Main, Ruth Hussey, Hedda Hopper, and for about a minute, Butterfly McQueen! It's extremely rare and utterly exciting to see a cast as sparkling as this.
The plot mostly surrounds Norma Shearer's character, however, which makes sense because Norma was a top box office draw at the time, and as I said, coveted the crown as Queen of MGM. Her character, Mary Haines, is the lovable wife and doting mother who becomes the unfortunate victim of her husband's infidelity. This is the first Norma Shearer movie I have seen, and she was also one of the ten actresses I chose to make a point of watching this year.
Well, I must admit, she was quite good. This movie is filled to the brim with catty women (who are proud of this fact), but out of all, Mary's character is likely the most decent, the most sweetest, etc., at least until her claws come out towards the end. Olivia de Havilland once said that it's much harder to play good characters than bad ones, which I agree with. With bad characters you pull out all the stops and they're just evil, but good characters require a particular type of emotion that's hard to afflict. Also, oftentimes it's much more fun to play bad characters. ;) This being said, Norma Shearer had this task to play a gentler sort among all these catty women, and I think she did pretty good. While I did like her I don't think she's going to become one of my all time favorite actresses anytime soon, though it's not to say I didn't enjoy her. And I'll look into more of her films for sure - I just think it's going to be more of a slow growth with Norma and I!
Rosalind Russell was just fantastic! I LOVED her character, she was probably one of the more terrible ones but it was all the more fun to watch her. Roz talks at the speed of light in this, just like she would in His Girl Friday. Her character dressed kinda like Hildy Johnson, too, though the personalities aren't really at all alike. Anyways, Rosalind's performance in this might be my favorite in the whole film. She was a lot of fun!
Joan Crawford. Well, her character is the worst out of the lot and I hated her. Her character, I mean. And since I hated her character, that means that Joan did a pretty good job in the acting department. Here might be a good time to bring up that business about how it's easier to play bad characters than good ones, but I won't because I'm constantly bashing Joan. So I'll conclude my opinion on Joan's performance in this movie by saying: I hated her character completely -- Joan was wonderful!
Paulette Goddard and Joan Fontaine don't get nearly as much screen time as the three I just mentioned. I don't really think they had achieved "star status" yet. I watched another Paulette Goddard film earlier this week, The Crystal Ball (1947), with Ray Milland. I found her charming in that and I liked her in this, too. I decided that I need to see more of her, because she's pretty adorable, and so I swapped Susan Hayward out of my list of actresses to see more of in 2012 for Paulette. Sorry, Susan!
Joan Fontaine didn't have much screentime, either. But her character was also quite gentle and I liked her a lot. This is the second movie I've seen Joan in, I've seen her in Rebecca as well. I'm still decidely a Livvie fan, but I did enjoy Joan's performance in this, however short it was.
Overall, I really enjoyed the performances of the several leading ladies in this and that's what made me like this movie, even when the plot got out of hand, which it did on several occasions. There were cat fights and there's even a scene where Roz bites Paulette's leg. That for me was a little too much and I began to get slightly weary at this point. Also, this movie was way longer then it actually needed to be, several scenes could have been cut out, I think, especially the Reno part. That part, I felt, dragged.
Above all, though, this movie is forever entertaining and I find it absolutely charming that there's not a male to be seen in this entire film. Perhaps the 1930's was a time when sexism was felt strongly, but the title of this movie's not kidding - it really is about the women.
The bottom line:
Definitely see this one for it's spectacular cast and the performances that they give. The plot can be a little ridiculous at times but like I said, it's always entertaining for sure! And don't miss it for Joan Crawford's sassy, "There's a name for you women - but it's not used in high society, out of the kennel!"
Some photos:
(in case you're wondering, that George Cukor in the middle - who would be better to direct this movie? - there really are NO actors in this)
Some trivia:
This is Butterfly McQueen's film debut - in this same year she'd gain notice as Prissy in a little movie called Gone With the Wind.
Myrna Loy and Greta Garbo were the only leading ladies at MGM not given a role in this movie, though Myrna was considered for the part of Crystal Allen
The frequented beauty salon in this movie, Sydney's, was named after the MGM's most popular hairdresser, Sydney Guilaroff
A movie tidbit:
***
That's all for today's review, and once again, thank you to anyone who has/or plans to participate in my survey!!!