Today's the birthday of one of my all time favorite people, Natalie Wood, and so today I share with you five completely random things I love about her.
***
Happy birthday, Natalie!
"She was very smart. She read a book a week and had a wicked sense of humor. She was just adorable — one of the few movie stars I've met who was really worthy of that title.
"She lived a very simple life. You know who her friends were? My favorite picture was taken when I brought a new camera over to her house. At the house that day were Laurence Olivier and Elia Kazan. So I have a photo of Olivier, me, Natalie and Kazan. You look at that picture and the tragedy is you would never think she'd be the first to die.
"To go to a New Year's party at her house was amazing. It was the kind of thing where Cary Grant came over at 12:30. She was the hub, she was the nexus. She was a child star and everybody loved her."
- A director who worked with Natalie [x]
#5: She's better than you may think
I've heard Natalie been described as "fluffy", "a cute actress," and "kept around for her looks," but I hardly think so. Her doe eyes and petite figure shouldn't fool you, because Natalie Wood could be a real powerhouse of an actress. Though she did do glossy movies like Sex and the Single Girl (1964), she hardly enjoyed making them and preferred the more melodramatic works she did with directors like Nick Ray and Elia Kazan. I also feel that directors like this could coax the best performances out of her, in movies like Splendor in the Grass (1961). Her work in West Side Story (1961) is overshadowed by other elements of the famous musical but is still fabulous, and she's also incredible in movies like This Property is Condemned (1966) and Love With the Proper Stranger (1963). It's super unfortunate that she's remembered rather for her drowning than her performances.
[via; from the bathtub scene in Splendor in the Grass - I like Sophia Loren a lot, and I have yet to see Two Women, but I do really wish Natalie had won this year. She never won. Not fair.]
#4: Natalie, the child star
This is kind of an extension of #5. The movies Natalie made as a kid were not always very good, save a few exceptions. (If you're interested, you can read a spoiler review I did of the way too soapy No Sad Songs For Me, in which Natalie plays Margaret Sullivan's daughter, here. Oh, and you can also read a post about the much better Miracle on 34th Street here.) But for a young girl, her performances were most always brilliant. Natalie was never a child star in the likes of Shirley Temple or Margaret O'Brien, more of an actress working constantly in films who happened to be a child. She was pushed into the movies by her aggressive stage mother (who apparently used to snap butterflies into two so Natalie would cry on cue). But as a child actress, Natalie was naturally sharp and her performances were excellent for her age. There were always a certain maturity to her performances and because of this she always steered clear from the sappy, sticky sweet range Shirley Temple frequently wandered into. I'm always blown away by her work in her first movie, Tomorrow is Forever (1946), where she plays an Austrian refugee child and her co-stars are the likes of Claudette Colbert and Orson Welles. She was only eight and Orson said, "She was so good she scared me." And as a child, she worked with some of the top stars of the 40s. Besides the latter mentioned, she shared the screen with: Barbara Stanwyck, Irene Dunne, and Bette Davis.
#3: Candid camera
Well, not always 'candid', but all the while, I felt the need to mention that photos of Natalie were always incredible. Natalie was obviously gorgeous with her dark, Russian beauty; however, even the most beautiful of people don't always photograph well, but Natalie was utterly photogenic. I've never come across a photo of her where she didn't look amazing. Photos of Natalie were taken mostly in the 1960s, so they all contain a fun, retro spin on them. I can't really explain it, but the photos of her are always the prettiest, candid or posed. Anyways, here are six good examples:
#2: Natalie as a mom
This is a part of Natalie that I think has been less discussed. When I was reading her biography, however, I really got the image that she was a good mom. She had two daughters, Natasha (b. 1970) and Courtney (b. 1974). They were seven and eleven, respectively, when she died - which is of course, terrible. However, in the time she did have with them I'm sure she must have been a wonderful mother. When she had them, she slowed down her career and wouldn't accept a film unless she knew her husband, Robert Wagner, could stay with the children while she was working - or vice versa. She loved to take them on trips on the boat and let them bring friends along. I think Natalie was very much deprived of a childhood, and her mother was just terrible (whilst reading her bio, I wanted to slap her mother... several times..). A real heartbreaking story is the day before she left for Catalina, Natasha begged her not to go because she had a feeling something might happen to her mom. Natalie was tempted to, but others convinced her not to spoil Natasha and to go, so she landed up taking the trip - and she drowned that weekend. Isn't that so sad? Ugh.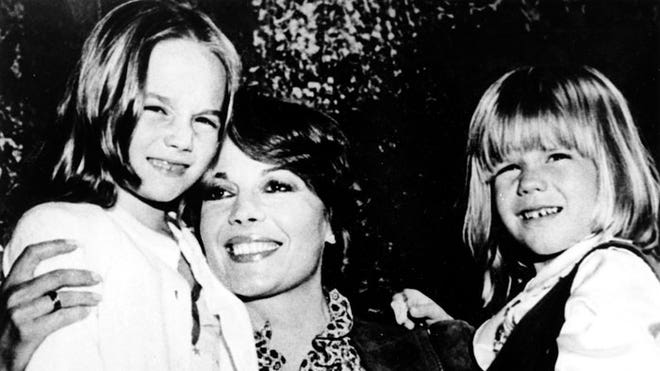 #1: The other side to Natalie
This one is hard to describe, but I suppose it's just a quality in Natalie that makes me love her - that I can't explain. When you watch her on screen, you don't want anything bad to happen to her. When you read about her life, it's completely intriguing and oftentimes sad - but there's never a dull moment. From getting to know her, what I have extracted from her personality is that she had a lust for life and an excitement for living, which I think it makes it all the more terrible her life was cut so dreadfully short. I think there were two sides to Natalie: this glamorous movie star named "Natalie Wood", and this fun, playful lady who went by her childhood name of "Natasha" and cooked great Spanish eggs and loved to time spend with her children and read plenty of books and listened to Bob Dylan and watched Vivien Leigh movies. I guess this fine line between the two sides to her are the reason I love her; and I feel almost as if I get the best of both worlds by loving Natalie.
So that's all! However, considering it's Natalie's birthday, I'd like to plug this little clip I stumbled upon on Youtube a year ago and it nearly knocked me over. It's Natalie, in the late 70s, being interviewed by Lucille Ball and her son. I KNOW. I ALMOST DIED. Anyways, it's a lot fun to watch, so I'm leavin gi there. Try to get some Natalie in your day today! :)