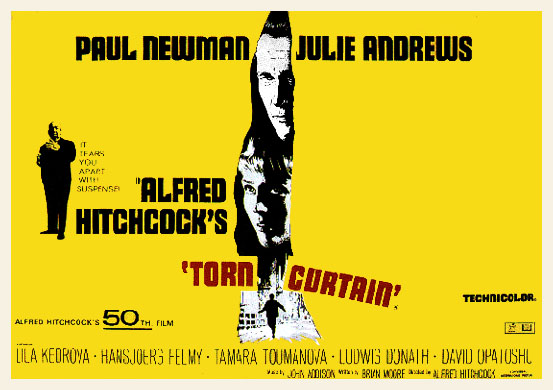 TORN CURTAIN (1966): Cast, plot details
An American scientist (Paul Newman) publicly defects to East Germany as part of a cloak and dagger mission to find the solution for a formula resin and then figuring out a plan to escape back to the West. He is joined by his fiancé (Julie Andrews). [from IMdb - with doctoring by me]
Paul Newman as Michael Armstrong
Julie Andrews as Sarah Sherman
Though it's not the all-time best Hitchcock film, it's still an entertaining movie with plenty of suspense and it would definitely be worth a watch
This is actually a movie that is a lot less beloved than Hitchcock's other works. Critics weren't too hot about it back in 1966 and fans have forgotten it. And when you compare it to movies like Notorious and North By Northwest, sure, it doesn't come out looking like an incredible film. But if you didn't compare this movie to the other, really fantastic, amazing movies Hitchcock did, you'd actually find that this is a pretty good movie all the while. Anyways, I really did enjoy it and I wouldn't not recommend it.
The plot takes place during the Cold War and is basically about the dangers of going beyond the Iron Curtain. The occurrences while Paul and Julie's characters are there are pretty entertaining and suspenseful, as well as their escape from behind the Curtain. The scene that kept me the most on the edge of my seat, in that typical Hitchcock way, is one in which Paul Newman and & the wife of a farmer, who doesn't speak any English, silently murder a nosy communist.
I really do like Paul Newman, I haven't seen enough of his movies as I would like to - and I'm working on that - but what performances of his I have seen I have enjoyed. This was one of those great performances, he milked the suspense pretty well in this and you were rooting for his character all along.
Almost two weeks ago, I did a post about The Sound of Music (1965), where I was discussing how I'd forgotten how incredible Julie Andrews is and how I really needed to watch some more of her movies. Well, anyone who has been reading this blog for a few months or so will know that I fall into obsessions with actresses very quickly, and I begin watching marathons of their films until I've seen like 50% of their filmography. No joke. And then my favorites list gets all topsy turvsy - and well, the bottom line is, if you were expecting I'd fall into a obsessions with Julie Andrews from reading that bit in my post, you were right.
I couldn't help it okay. She's so fabulous. She's just really, really fabulous. So much so that I even plan to try Mary Poppins again. Just for her. Because I adore her.
She wasn't in this movie nearly as much as I would have liked her to be, it's really Paul's movie, but anyways, with the screen time she did have she was rather good as Paul's girlfriend torn between sticking with him and pretty much sacrificing herself, or returning to safety beyond the Curtain. The chemistry between her and Paul wasn't, for example, Cary-and-Ingrid-in-Notorious amazing, but it was still pretty good and that was fine considering that for a great deal of the film they're a bit cold to each other. I saw some reviews calling their chemistry (as well as Julie's acting) "wooden", I seriously don't think it was that terrible. In my opinion, that's an exaggeration. For the most part they worked well together, and besides, they were so beautiful together that to the eye they make a good couple. I mean, two pairs of gorgeous blue eyes in color?
Though this isn't the best Hitchcock movie I've seen, people would appreciate this movie a lot more if they just took it for what it is and not compare to the other works of Hitchcock's. Then perhaps, the plot would seem more suspenseful and Paul and Julie's chemistry more palpable. As for me, I can't say that I didn't like it, for that would be a lie, because I really enjoyed it.
PHOTOS & TRIVIA
Hitchcock originally wanted Cary Grant & Eva Marie Saint for the lead roles, but the studio wanted the more popular, younger, and bankable Paul Newman & Julie Andrews.

Apparently, this was one of Hitchcock's most unhappiest directing jobs.

Marked the end of the companionship of Bernard Hermann's musical scores and Hitchcock films.
A MOVIE TIDBIT
Just so you know, guys, I've also updated my favorite actors & actresses pages!
---
Per usual - CALLING ALL BLOGGERS! Have you signed up for me and Natalie's [or Natalie and I's??] blogathon yet? You can do so now! And, as usual, thanks to those of you who have already gotten on board :) It's going to be a ton of fun!