Hello everyone,
It's a lazy Saturday afternoon, and I was filled with tons of of new inspirations for Blogging. So I thought I'd Blog a little more - just one more time!
This post is the first of a new series called "Rianna Recasts." In this segment, I take a movie and change the cast of actors to people who I either wished was in the movie, or thought more suitable than the original actors, etc. On occasion, I will perhaps take a book that was never made into a movie and use my imagination to dream up the perfect cast for it - with Old Hollywood actors, of course.
One of my favorite books ever is "A Tree Grows in Brooklyn" by Betty Smith. I just read it this summer, but it is AMAZING. It is basically based on Betty Smith's own growing up experiences in Brooklyn, New York.
It is basically the story of Francie Nolan, from the time of birth to the age of sixteen, and her coming of age in a place she loves but also knows the deep truths of - Brooklyn. Her mother, Katie, is a hardworking woman who loves Francie but can't help but love her brother, Neeley, more. Her father, Johnny, is a good man but a drunk - still, that doesn't stop Francie from loving him with all her heart. There is her Aunt Evy, and Aunt Sissy - a kind, loving woman, though she can be "bad" because she has been with many men.
I'm sorry for such a weak summary -Google it for a better description, perhaps. Anyway, it is a Fantastic book so please read it! Now, back to where we were. There is a 1940's version of the movie, the first directed by Elia Kazan. Unfortunately, i have yet to see it because it is not available on Netflix yet. I believe Dorothy McGuire plays the mother. But anyway, I thought it would be fun to recast.
So here goes.
***
Katie Nolan (Francie's mother)
I thought about this quite a bit, contrasting different actresses for the role of Francie's hardworking, determined, yet pretty mother. Finally, I came to a conclusion some may find strange - Ingrid Bergman. As you probably know, Ingrid is one of my favorite actresses. I wanted to put her into this movie. And the more I thought of it, the better Ingrid seemed for the role of Katie. Katie is German, and Ingrid had some German blood in her, too. I'm not a hundred percent sure on this one, but I know without doubt that Ingrid would have done a fantastic job.
Johnny Nolan (Francie's father)
I thought a lot about this one, too. And perhaps I have come up with an equally strange conclusion (well, picking Ingrid wasn't THAT strange) - Bing Crosby. Johnny was more than a drunk - he was kind, and loved to sing, and loved his children. More emphasis on "loved to sing". Plus, I always thought that Johnny probably looked a lot like Bing Crosby. I considered Robert Mitchum, actually, for a moment - but came to the conclusion he was a little too gruff for Francie to love so much. Bing also played a drunk in "The Country Girl", so he is well-suited. So, Bing it is - and BESIDES, he was Irish, like Johnny!
Aunt Sissy (Francie's aunt)
I think, with the exception of Francie, maybe, that Sissy was my favorite character in the whole book. She was brash but so kind and wonderful at the same time. She just seemed like a person with a big heart, and a lot of affection to give, though a lot of people took this offensively and labeled her because of her many lovers. So, I found the perfect girl for the role of Sissy in Ava Gardner. I was even more sure when I saw Ava in "Mogambo" last night. Watch the movie, and you'll see what I mean. Anyway, my only restraint was that Sissy is supposed to be Katie's older sister, and that Ava was about ten years younger than Ingrid. But, who cares, really?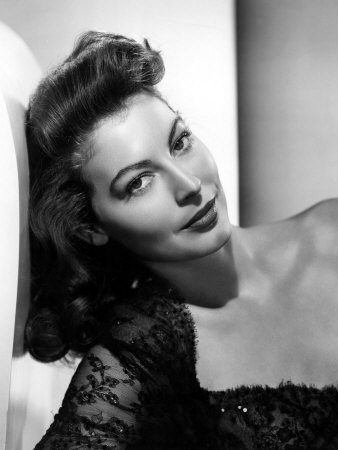 Aunt Evy (Francie's aunt)
This one was pretty hard to cast, too, simply for the reason that I didn't feel Evy's character had that much depth. I mean, I liked her and all, but she seemed a vague character compared to the in depth-ness of every other character. So I finally just landed up on picking Olivia de Havilland. I'm not sure why - I just figured that Olivia LOOKED like an Aunt Evy. And besides, she was such a brilliant actress, she could probably brings of depth to Evy - then again, weren't they all? ;)
Officer McShane (Francie's stepfather)
I wanted to avoid telling you, but I guess it wouldn't be a spoiler, anyway - because if you read the Forward in the beginning of the book, they tell you straight off of Johnny's fate. Anyway, it was pretty easy for me to choose McShane - I wanted someone kind of old, but still likeable. So I chose Gary Cooper - he just seemed like the perfect choice.
Neeley (Francie's brother)
I also had a heard time picking this one. Any actor i considered just seemed too old, or just not right for the part. Then I remembered Dennis Hopper, who played one of the sons in "Giant." This is probably not the sort of movie I would imagine him doing. Plus, I don't know if we'd all be fitting into the right year of filming here (lol). But he could pass for Bing's son, and so I kind of landed up picking him. Yes, I know, I pick strange choices.
Francie
Of course, I thought long and hard about who would play Francie herself! I decided on Elizabeth Taylor. Just picture her in "National Velvet", without all the frilly dresses and with braids in her her hair instead. Would it work? Who knows!
***
Well, there it is. I know some of casting is sort of strange, but then again, I guess I'm sorta strange, too. ;)
Ciao!