A popular fad among the teen crowds these days is a style of dressing labeled "nerd chic." To fully complete this style, one must don a pair of "nerdy" glasses like the one pictured below -
There they are! Even if you didn't know what I meant by using the word "nerdy glasses" you probably recognize what I mean now.
However, and this is easily forgotten, the first pioneer of the nerd glasses were, believe it or not, Grace Kelly! I was looking at pictures of the "American Princess" and after reading several biographies was amused (and endeared) by the fact that she was indeed, in desperate need of glasses. She never wore them on screen (with the exception of "The Country Girl," of course), but off screen collected them. She could even be seen putting them on at fancy galas to help read a dinner menu.
I was even more charmed when I got a look at the glasses - and found them to be quite identical to the "nerd chic" craze of today! What do you know? Take a look for yourself: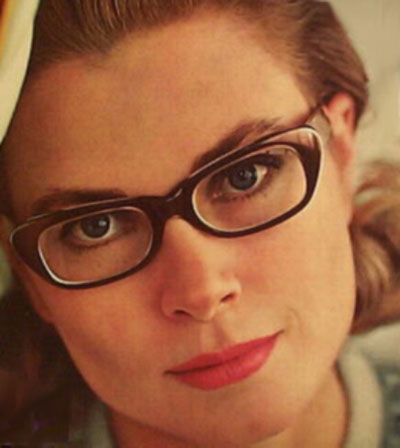 She had been seen with them on more than one occasion -
Spencer likes Grace's glasses, too!
So, like they say, anything new is really old. Like when you put on a pair of oversized glasses, you're really channeling Jackie Kennedy. Well, next time I see someone in a pair of nerd glasses, I'll congratulate them for bringing out their inner Grace - and they'll give me puzzled looks in return.
♥