Hi everyone,
I'm going to be keeping today's post kind of short and sweet. (And sharing with you a few videos and pictures).
It's more birthday wishes, and this time being sent in the direction of the always lovely Maureen O'Hara, who turns 91 today. Maureen is even more deserving of these wishes considering it's not a
would
be birthday... but we are blessed because we still have her with us.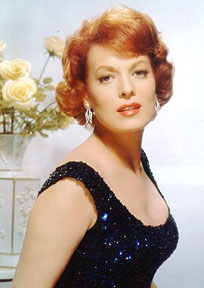 Happy birthday, Maureen!
Maureen has worked with
two
of my favorite actresses - Lucille Ball and Natalie Wood. Maureen, I think, was in two movies with Natalie, but the more famous one being "Miracle on 34th Street", the classic Christmas story in which Maureen plays Natalie's mom. The two got along very well and formed a mother daughter relationship (Natalie even called her "Mama Maureen") that lasted up until Natalie's death in 1981.
Maureen and Lucy made one movie together, the 1940 RKO flick "Dance, Girl, Dance". Both redheads played dancers, but of totally different types. Maureen played a ballerina and Lucy played the wisecracking burlesque queen.
Above is a hilarious cat fight scene between the two redheads in the movie in question.
Maureen and Lucy befriended each other backstage, and Maureen was with Lucy when she first met Desi Arnaz. It is also said that Lucie Arnaz and Desi, Jr. used to run countless screenings of "The Parent Trap" (the campy, 60s Disney movie Maureen made with Haley Mills) at their house in the last, crumbling years of Lucy and Desi's marriage in hopes of bringing them back together.
Though I am not an avid fan, I have always enjoyed her on screen performances and love to hear that she got along so well with two of my personal favorite actresses. Plus... since we're so lucky to still have us with her, it would be so cool to meet her.
But anyway, that's probably not going to be happening anytime soon.
Maureen has also written an autobiography, entitled "Tis Herself." I plan to read it quite soon, as I hear it's supposed to be pretty good.
Maureen and Natalie with a big china doll - on the set of "Miracle"
I'll leave you with this "What's my Line?" clip featuring Maureen. It's one of my personal favorites.
Bye! :)