Hi everyone,
I watched "Mildred Pierce" on Friday, and I loved it. However, I thought I would do a patriotic film to review this Sunday since it is the tenth anniversary of the 9/11 attacks.
I was too young on 9/11 to understand what was going on, none the less remember anything. I was lucky to not have personally lost someone close to me in those attacks, but nearly three thousand people died that day, which is awful beyond words. I have no recollection of the day; on Friday in our Social Studies class we discussed the event and I was surprised to see that some of my fellow classmates could produce sketchy memories of the day; some more vivid than the others. I have none.
In honor of those who lost their lives on that unfortunate day, I thought I would do patriotic/American film of sorts to review this Sunday. I Googled "most patriotic films" or something, and the
classic
film that seemed to consistently show up often on many lists was "Mr. Smith Goes to Washington."
Everyone knows that 1939 is often deemed the greatest year of film there was - with "Gone With the Wind" and "The Wizard of Oz" among others, one of them being "Mr. Smith Goes to Washington." I personally love "Mr. Smith" and decided this would be good opportunity to review it.
The thing is, it's been a little while since I saw "Mr. Smith." The films I usually review for the Sunday Movie Reviews are movies I'd seen a few days ago and so they are still really fresh in my mind. Because of this my review for "Mr. Smith" is going to be short -- in addition to the fact that it's a really brilliant film and I don't have that much to complain about! So excuse the shortness of this Sunday Review.
***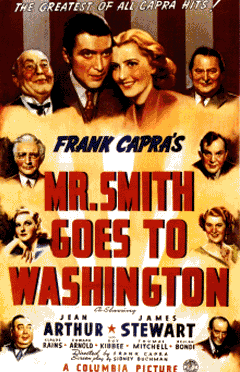 When idealistic junior senator Jefferson Smith (James Stewart) arrives in Washington, D.C., he's full of plans and dazzled by his surroundings -- qualities he retains despite widespread corruption among his cynical colleagues. Jean Arthur puts in a sharp performance as Smith's streetwise secretary, who helps him navigate his way through Congress, in this Academy Award-winning classic from director Frank Capra. [from Netflix]
Jimmy Stewart as Jefferson Smith (aka "Mr. Smith")

Jean Arthur as Clarissa Saunders

Claude Raines as Senator Paine
It is directed by Frank Capra.
This film has the three of my favorites: Jimmy, Jean, and Frank Capra as the director (how many times do you need to hear "Capraesque" to know how wonderful he was?).
Though it is over seventy years since this film was made, it manages to remain refreshing and new everytime I watch it. It combines drama with the wittiness of a screwball comedy. Jimmy Stewart gives one of his best performances in my opinion as the determined yet frustrated Mr. Smith who represents the everyday good guy that members of Congress are not used to. Jean Arthur keeps the pace moving as smart talking Clarissa.
Jean is one of the reasons I love this movie. She represents a sophisticated woman who knows more about politics than Jimmy does, despite the fact she's a woman - totally splitting a stereotype in two right there. Take this scene, for example, where Clarissa explains to a naive Jeff how to get his bill passed:
Jean is perfection
Of course, this is not to undermine Jimmy's Jefferson. The role is perfectly built for Jimmy Stewart -- a true good guy, a patriot, who proves to the millions of people that doubt him that he can stand his own.
I'm not going to say much more. This review was extremely short, and for that I apologize. But the bottom line is that you should see this movie. You really should. Five stars.
***
Well, there it is, my pathetically short review for a fantastically wonderful movie. I really hope everyone has seen it. Jimmy and Jean are one of my favorite pairings and this is true Capra material; this is not one of those "classics" everyone always hypes about and it turns out to not be that so good. It truly is that good!
That's all for today. Tomorrow I will reveal the faces behind the current Here's Looking At You, Kid. If you haven't already guessed, you can click that link and leave me a comment. :)
Have a good Sunday, and a take a moment to pause and remember the people who lost their lives on this day ten years ago.