Okay, so there isn't going to be any Sunday Movie Review today. Not exactly: we are discussing films, not exactly reviewing them, but discussing them. I have committed myself to
The Scarlett Olive
's "For the Boys" Blogathon, and the topic is basically to discuss "manly classic films." The Scarlett Olive, which is hosting this blogathon, is a podcast run by Hilary and Katie. According to what they said on their site, they decided to host this blogathon because "there's a staggering amount of estrogen in our blogs and podcasts," and I can relate to that too.
I mean, my classic actresses tags are huge, but I find myself not even talking about the actors that much! Which isn't fair because I like them just as well, perhaps being a "easily influenced teenage girl" I pay attention to the actresses somewhat more simply because I can look up to them. I mean, I'm not afraid to admit it because they
are
my role models. However, I'm trying to shake up my content a little bit, which is one of the reasons I joined in on this blogathon. Hopefully this will help me get off to a good start to discuss men's roles in classic films a little more.
So for my contribution to this blogathon, we're discussing "five really manly classic films." These are a mix of war films and westerns, which are probably the two genres of classic film I watch the
least.
Yes, I much more compelled to the dramas, the women's pictures, the romantic comedies and the screwballs. So I actually needed my father's help when conjuring up this list. Excuse me because a lot of it's going to be very stereotypical... but but but in my defense, I'm not really much of a manly film watcher.
I think this blogathon should make a point, however, that classic films
can
be manly! I think that a lot of people assume that whereas men can enjoy classic movies, a lot of it will be more on the mushy side because classic movies just tend to be more romantic and lacking less in the areas of violence, gore, etc. that define a "manly" film. Not true.
Anyway, here's my list. This is all pre-1970 stuff, kind of co-written by my father because I haven't actually seen
all
of these movies... shh... don't tell!
***
The Wild Bunch (1969)
Cast: William Holden, Ernest Borgnine, Robert Ryan
Summary:
Director Sam Peckinpah's brilliant 1969 Western epic tells the story of a bunch of aging outlaws, led by Pike Bishop (William Holden), whose botched plans to pull off one last job forces them to collude with a crooked Mexican general (Emilio Fernández) -- leading to ugly bloodshed. Ernest Borgnine, Ben Johnson and Jaime Sánchez co-star in this special edition, which includes never-before-seen outtakes and three exclusive documentaries. [from
Netflix
]
What makes it manly: Well, this obviously starts with the movie's title. With one like "The Wild Bunch", you should know what you're in for. Plus, you have the pretty manly talents of those like William Holden and Robert Ryan: you could easily call them some of the most manly actors from Classic Hollywood. But pretty much as my father told me simply, and the Netflix summary seems to agree, "it's got a lot of blood and gore in it!"
The Dirty Dozen (1967)
Cast: Lee Marvin, Ernest Borgnine, Charles Bronson
Summary:
In this Academy Award-winning World War II action flick from director Robert Aldrich (The Longest Yard), a U.S. Army major (Lee Marvin) is handed a near-impossible assignment: Turn a group of conscripted convicts into a crack fighting unit and then send them on a mission to destroy a villa filled with Nazi brass. The "volunteers" include Archer J. Maggott (Telly Savalas), Victor Franko (John Cassavetes) and Vernon L. Pinkley (Donald Sutherland). [from
Netflix
]
What makes it manly: IT'S A WAR FILM. And look at that poster and all the bloodshed and the gore, now, if that isn't manly what is? Plus you add that title. A dirty dozen turned lose on "those Nazis." Yes, this is probably one of the best examples of a classic manly film.
The Bridge on the River Kwai (1957)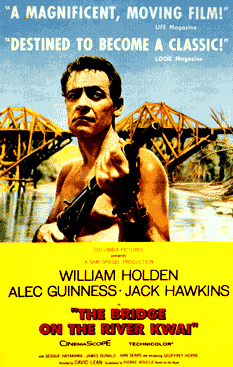 Cast: William Holden, Alec Guinness, Jack Hawkins
Summary: Director David Lean's sweeping epic -- best known for a whistling work theme that became legendary -- is set in a World War II-era Japanese prison camp where British POWs are forced to construct a railway bridge as a morale-building exercise. Yet the real battle of wills is between a "play by the rules" British colonel (Alec Guinness) who's dedicated to the project and his American rival (William Holden), who vows to destroy it.
What makes it manly: I think William Holden must be the king of manly films. I think he is the one who appears most frequently on this list. Well, Ernest Borgnine too, but he doesn't come across as so... "manly" to me. ANYWAY, back to the film. Another World War 2 movie, with the promise of some more fighting and look, there isn't even a single woman in the cast. Welcome to camp 16 -A manly film for sure.
Rio Bravo (1959)
Cast: John Wayne, Dean Martin, Ricky Nelson
Summary: Sheriff John Wayne has a problem: He must keep killer Claude Akins from escaping the town lockup (with outside help from his brother and a cadre of hired guns). The only people Wayne can call on for support are an alcoholic Dean Martin, a well-meaning Angie Dickinson, a crippled Walter Brennan and an eager Ricky Nelson.
What makes it manly: Well, this is one my father has been trying to get me to see for a long time and I keep refusing. Shh, I've got another secret: I don't really like Westerns. Anyway, I think Howard Hawks and John Wayne made this movie to counter "High Noon" (one that I actually have seen), because in the latter film Gary Cooper is asking his citizens for help to fight the bad guys. Hawks and Wayne didn't think this was right and so they came up with this, the exact opposite. Wait, that doesn't explain to you why this film is manly. Well, it's got John Wayne, and then Dean Martin trying to be manly, and what seems like the elements of a good Western. (If, I, well, actually liked Westerns...)
The Searchers (1956)
Cast: John Wayne, Natalie Wood, Vera Miles
Summary: After his entire family is viciously wiped out, hardened war veteran Ethan Edwards (John Wayne) embarks on a long journey to find his only surviving niece, Debbie (Natalie Wood), who has been captured by hostile Comanche Indians. Director John Ford's richly scenic -- and controversial -- Western also stars Vera Miles, Hank Worden, Ward Bond and Jeffrey Hunter, as Edwards's riding companion, Martin Pawley.
What makes it manly: Okay, this is probably one of my favorite Westerns because Natalie is in it. I don't actually know how manly it is, but then again you have John Wayne playing this hardened maniac who wants to go and kill a bunch of people. He's kind of eccentric and there's a lot of scalping and you know, Natalie was quite good in it...albeit she was only on screen for fifteen minutes or so but really. Yeah, this is one Western I do like.
***
Okay, that's it for today. This was probably a weak post, because I really lack in the genre of manly films but also in my defense I'm actually feeling quite sick to my stomach today. I honestly don't know. So I hope this post wasn't that bad and now I'm going to go and crawl into bed. Thanks to Hilary and Katie for hosting this!
Ciao!