I have watched so many movies in the past week or so, that I couldn't decide on just
one
to do for this Sunday's SMR. Therefore, I have decided to do something I've seen
Sophie
and
Clara
do. It's basically 5 mini reviews, and well, yeah, it's just like it sounds. I don't plan on doing this often, at least not for SMRs. But this week I couldn't help myself, so I hope you don't mind. And, oh, I did chose "Random Harvest" for my header because that's probably the most well known among the films here. (Most of them are Greer films, a la my current obsession).
With the exception of one of these movies, you can see all of these films online for Free! Clicking the poster (there is a reminder underneath) should take you to the links to watch it if you're interested.
Desire Me
[this whole movie is on Youtube, so you can hit the poster to watch it!]
Summary:
Shortly after WWII, flashbacks tell the story of Marise (
Greer Garson
), her husband Paul (
Robert Mitchum
), and Jean (
Richard Hart
), who was imprisoned with Paul in a German camp. While attempting to escape from the camp Paul is shot, and Jean goes to see Marise, confirming the news she had gotten already about Paul's death. Jean has fallen in love with Marise through the stories Paul told him, and wants to stay with her in the seaside town in Brittany where Paul owned a small business. [from
IMdb
- with slight doctoring by me]
Verdict:
I actually think this plot has a lot of potential. Kind of like My Favorite Wife, except in a reverse and much more dramatic. MUCH more. Anyway, it's obviously got a good ensemble cast, too. My problem with this is the way the plot is depicted did not do justice to the story. Marise and Jean "fall in love" within a week despite the fact Marise had just been confirmed of her husband's death.
[SPOILER:
Paul turns out not to be dead after all, and when he returns we cannot be satisfied by his reunion with Marise at all, because there was not enough background on the two for us to understand their love for one another, despite the fact that the script tries to make it obvious that these two were madly in love before he set off for war
.]
. It's all a big flashback and the pairing of Mitchum and Greer are not utilized at all; they have, perhaps, five minutes of screen time together. Richard Hart's character was a big, fat annoying jerk.
Entertaining
albeit all but this film was worked on by four directors - one of them being George Cukor - and none of them wanted their name on this, so that ought to give you a hint! It is said one of these directors made Greer do 125 takes of the single word, "No!" - at which Robert Mitchum rolled his eyes and could no longer take Hollywood seriously. Uh, well, it's entertaining none the less - though sometimes at it's own expense.
2.5 / 5
Random Harvest
[this whole movie is on Youtube, so you can hit the poster to watch it!]
Summary:
Wounded World War I soldier Charles (
Ronald Colman
) has no memory of his past, and when he meets Paula (
Greer Garson
), he's certain she's the one for him. They marry, but Charles is hit by a car, regains his memory of his life before Paula, and loses all memory of Paula. He returns to his wealthy relatives, and a desperate Paula takes a job as his secretary to be near him in this tragic romantic drama. [from
Netflix
]
Verdict:
Like most everybody, I ADORED this film... and it made me love Greer even more, if it's possible. There really isn't much to say except it's just a wonderfully sweet film whilst still being so entertaining, too. Greer is just wonderful as the beautiful showgirl who takes Charles under her wing and cares for him so. A real sweetheart of a character without being too sappy (so of course, Greer is perfect to play it). And Ronald Colman (by the way, he looks like Clark Gable's twin at times for sure!) as Charles (or "Smithie", for those of you who have seen the movie ;D) - well, he's pretty much adorable, most of the time anyway. I thought he played the part quite well because you must admit, it's certainly a hard one to play. This movie is heartbreaking, glorious, entertaining, but the ending is so satisfying, above all. I strongly encourage you see it; and there isn't really much more left to say. (Except you must see it, seriously!) OH! And go right this instant and watch
Greer being fantastically entertaining and adorable
in her rendition of the Scottish song "She's Ma Daisy." Seriously, if you haven't fallen in love with Greer yet you will after seeing it. ADORED her and it. (You don't know how long I was going, "She's my daisy!! - My bonny daisy!!" to myself after that... :D).
5/5
Scandal at Scourie
[this whole movie is on Youtube, so you can hit the poster to watch it!]
Summary: The big hearted Victoria McChesney (Greer Garson) meets a little orphan named Patsy by chance, but the two quickly become inseparable. Victoria adopts her and takes her home to husband Patrick (Walter Pidgeon), despite the fact that the McChesneys are Protestants and Patsy Catholic. This causes scandal in the town and puts strains on Patrick, who is trying to run for a position in the town government. This MGM vehicle is set in the 1890s small town of Scourie in French Canada.
Verdict: I actually quite enjoyed this. This film is based around religion so steer clear if you don't like "those" type of movies. I thought it was really sweet and gosh, Greer was wonderful as the gutsy Victoria. (There is actually a scene in here where she marches into a barber shop, red hair flaring, and beats a man with a wet towel - several times - and douses him oil. She then goes home and breaks the news to Patrick in the most adorable way. That scene alone is worth watching the movie!). And I liked Walter too as her husband, and the little girl who played Patsy was adorable. The Technicolor is gorgeous and this beautiful small town of Scourie comes alive excitedly. Plot is perhaps a little dated in some people's eyes, but I had no problems with this and I liked it. Agnes Moorehead makes in appearance as a nun (Sister Josephine), as well! I also think this was the last movie from the famous pairing of Greer and Walter, so if you're a fan of them certainly see it for that reason alone.
4/5
When Ladies Meet
(1941, Robert Z. Leonard)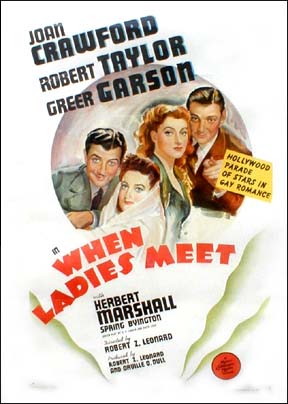 [you can hit the poster to watch a tidbit of this movie - the whole movie is on Youtube, but you have to pay to see it :( ]
Summary:
Mary (
Joan Crawford
), a writer working on a novel about a love triangle, is attracted to her publisher, Rogers (
Herbert Marshall
). Her suitor Jimmy (
Robert Taylor
) is determined to break them up; he introduces Mary to the publisher's wife, Claire (
Greer Garson
), without telling Mary who she is - and the two land up liking each other. [from
IMdb
- with slight doctoring by me]
Verdict:
Anyone would get excited to see this film just by checking out that cast! Okay, so I won't call this movie disappointing because by golly it's
entertaining.
That is for sure. This movie actually had me gasping outloud and going, "Ohhh" because I knew something explosive was going to happen at points. ;) I mean, it's one of those ironic films that can be somewhat frustrating (appropriately so) because you know what's going on and you desperately need the characters to know as they sit there, having nonchalant conversations that are yet so ironic! (If that makes sense). My one issue though was Herbert Marshall. I just didn't like him :( He seemed quite cardboard, and it helped that I hated his character of course. Joan Crawford is good, nothing exactly special - this will sound biased because of the Greer crazy stage I am at currently that I
did
think that Greer shone brighter BUT this is not to say Joan was bad or anything. And to be fair, Joan and Greer's acting styles are completely different, but that makes it fun to watch. As for Robert Taylor, this was my first movie of his and I really liked him, so I'm certainly going to see more. Back to the plot, though: Another problem was this was the abrupt ending, I HATED it. Had it been done neatly, it may have been able to salvage this film for four stars. A merge between a screwball comedy and a drama, this is worth seeing to see Greer and Joan "meet" but far from being an excellent film.
3/5
Ball of Fire
[this time I'm linking to the lovely Film Classics.com website, where the full movie is uploaded]
Summary:
Gary Cooper
plays a serious but lovable English professor working with his colleagues on a dictionary of American slang. When a red-hot nightclub singer (
Barbara Stanwyck
) on the run from the mob takes refuge in their house, she also finds a place in their hearts. But where there's a ball of fire there's bound to be trouble, and before they know it, the professor and his cohorts are learning a lot about language -- and life. Howard Hawks directs. [from
Netflix
]
Verdict:
This has also got a really great cast. Besides Coop and Stany, you've got some of my character actor favorites among the "seven dwarfs" (AKA, Gary's professor colleagues), like S.Z "Cuddles" Sakall (I simply ADORE him and get excited whenever his name runs through the opening credits of a film), Henry Travers (who was Clarence in one of my favorite films, "It's a Wonderful Life"), and Richard Haydn (Max in another favorite: "The Sound of Music"). To top it off, Dana Andrews playing a mobster. ;) I really enjoyed this movie and I learned a lot of 40's slang, so I wish I'd seen it before I'd written my
vintage vocabulary
post last month. Gary Cooper was adorable and loveable as the nerdy professor ("I love him because he doesn't know how to kiss," Stany explains) and Barbara Stanwyck a lot of fun as Sugarpuss O'Shea. I know Lucy wanted this role really badly, and I of course would have loved to have seen her play it, BUT this is not staying Barbara was bad because she wasn't. She was really good. (Only you know the nutsy Lucy fan I am, I wish she was in everything (; ). Anyway, this was a fun screwball comedy directed by one of the masters of the genre, Howard Hawks (he needs no referencing, but "Bringing up Baby", for starters). I suggest you watch it, a daffy little modern take on Snow White and the seven drawfs. :) Also, watch it for
the adorable "yum yum" scene with Stany and Coop.
:)
4/5
***
This post actually took me a lot longer to write then I thought it would! -;) But I had fun writing it and was kind of surprised with the variation of ratings I gave the films. Anyhow, I'm sorry I didn't just review one film but I hope you were able to get my opinions on all five anyway and enjoyed reading. Like I said, I don't exactly plan to make a habit of doing these mini reviews for the SMR, but for this Sunday I had to make allowances.
By the away, a quick plug for the blogathon Bette at
Bette's Classic Movie Blog
is hosting: it's called
Mustaches for Movember
, and the subject is basically to write anything pertaining to classic movies and mustaches. A strange topic, but it's in honor of this program called Movember which raises awareness each November for men cancers. Bette can explain it better than I can (in fact, I probably confused you) so go take a stroll over to her blog and be sure and sign up - if you write a blog, that is! ;)
Also a plug for myself: again, if you haven't voted in the Rebel Without a Cause vs. West Side Story poll, please do as we're tied currently with three votes each. If you care to break that tie, scroll up to my sidebar and vote for the better film (in your opinion)! Poll will end in four days.
One quick last note: Thank you for 40 + followers and to the rest of you that read my blog through other subscriptions :) My followers gadget is slightly screwing up at times, I think for the moment it's alright, but I am trying to fix some problems it may have with not displaying all of my followers.
That's it, so have a great start into the week, everyone!